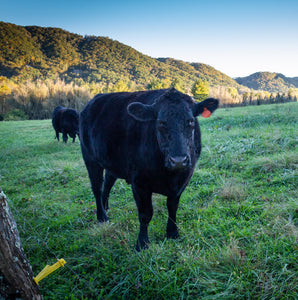 We Raise Craft Beef Naturally
Our farm takes a natural approach to raising a cross of Wagyu-Angus cattle.  This means our beef is:
• 100% Antibiotic Free – our cattle never receive antibiotics
• Non GMO – the grain we feed our herd is a special, high quality Non-GMO blend
• Growth Hormone Free – our cattle never receive any growth-promoting hormones
Some natural farms include do include a feedlot or feedyard, but we don't believe in this. We let our cattle roam the pasture to enjoy their natural grasses and special non-GMO grain.
Pasture Raised, Grass-Fed and Grain Finished Craft Beef
 To ensure our Wagyu-Angus cattle get our full attention, we take on no more than 25 cattle at a time. This gives them plenty of space to roam and eat right. We give our cattle:
• 50 acres to roam with five pasture areas
• Daytime grazing on native grasses and indigenous plants
• Craft grain in the evening that's always non-GMO and nutrient-rich
We like grain finishing because it enhances marbling, flavor and tenderness for better finishing overall. In terms of flavor, grain-finished beef typically produces a milder steak flavor than grass does alone. Plus, grain-finished beef also has a lower carbon footprint than grass-finished beef as the cattle produce less methane and reach their desired weight faster. (source: Beef Checkoff)  This means there is less stress on the environment.
From our Farm to Your Table
You deserve a true farm to table meat experience, whether you're a Charlotte beef fan or in the Carolinas, Washington DC, Atlanta, Jacksonville, Nashville or anywhere in-between. Count on Teague Natural Farms for:
• Premium grass fed and grain finished Wagyu-Angus craft beef raised by our family, for yours. USDA Prime.
• Easy online ordering and all the latest cuts – including dry aged steaks, wet-aged steaks and slow cooking cuts
• 1-2 day delivery in the southeast, straight from our farm to your door (please contact us if you live in another part of the US)